LT15 Portable Sawmill
Compact, versatile sawmill with crank feed, gas/diesel/electric power, 28 inch log diameter, 17 foot 8 inch log length and production up to 320 bf/hr.
SPECIAL
$7,495.00
Was $8,195.00


| | |
| --- | --- |
| Base Price | $8,195.00 |
| G19 | $0.00 |
PRODUCT INFO
SPECS
ACCESSORIES
WHAT YOU GET
REQUEST A CATALOG
World Standard Manual Stationary Sawmill
Start sawing logs into lumber with the compact, powerhouse LT15 portable sawmill - the world standard in manual stationary sawmills! Designed for hobbyists, small businesses, and timber framers, the LT15 is an extremely popular and versatile sawmill known throughout the world for being easy to operate and producing high quality lumber.
Operation
Loaded and turned manually with a cant hook, logs are secured onto the bed by six side supports and two fully adjustable log clamps that tightly clamp the log and allow for cuts within 1" of the bed. To prepare for cutting, head height is precisely positioned by a quick turn of the up/down dial and the blade is effortlessly engaged with a handle. Cutting is accomplished by steadily advancing the sawmill head along the length of the log by turning a low maintenance, hand-crank feed system which runs on a rope instead of a cable. A power feed is available as an optional upgrade. Once the cut is completed, the head is raised up, pulled back, and lowered into position for the next cut. A water tank feeds lubrication directly to the blade to improve cutting performance and keep the blade clean. The adjustable blade guide arm keeps the blade well supported while cutting various sized material.
Features
28" max log diameter with 26" max width of cut
17' 8" length of cut or unlimited with 6' 8" bed extensions
Add a trailer package for portability
Easy shipping and assembly
Built in the USA
Popular Options
Power feed improves cut quality and ease of operation
6' 8" bed extensions can be added to saw longer lengths (no practical limit)
Trailer package for portability includes durable steel frame, single axle, two wheels, two fenders, set of 6 adjustable outriggers, lights, and hitch
Pro package includes anti-rollback log loading ramps, cant hook, and taper wedge
The LT15 sawmill ships on a single pallet, comes with one Wood-Mizer sawmill blade, and requires minimal assembly time so you can start sawing within a few hours of receiving your sawmill. With a 30-day money back guarantee and a 2-year sawmill warranty, the LT15 sawmill is backed by the same level of service, quality and safety features shared by the entire family of Wood-Mizer wood processing equipment.
Request Info
Submitting this form indicates that you agree to the terms of Wood-Mizer's Privacy Policy
Standard Operation and Log Handling Features
Crank Feed
Low maintenance, hand-crank feed system steadily advances saw head through the log.
Head Up/Down
Quick turn of the handle moves saw head up/down 2" for each full rotation or 1/16" for each notch.
Low Bed Profile
Since the mill sits low to the ground, minimal lifting of logs is required.
Two Log Clamps
Fully adjustable to tightly clamp log and allow cuts within 1" of bed.
Six Side Supports
Logs are supported on the bed by six adjustable side supports, three with heavy-duty rollers to assist with log turning.
Easy Shipping and Assembly
Ships on a single pallet. Estimated 2-4 hours assembly time with included assembly video.
---
Easy Sawing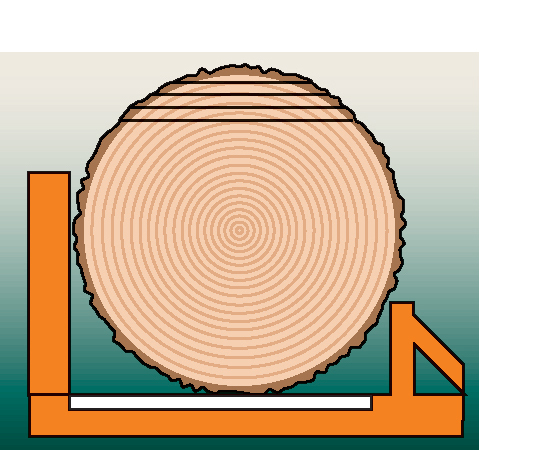 The first cuts are made across the top of the log.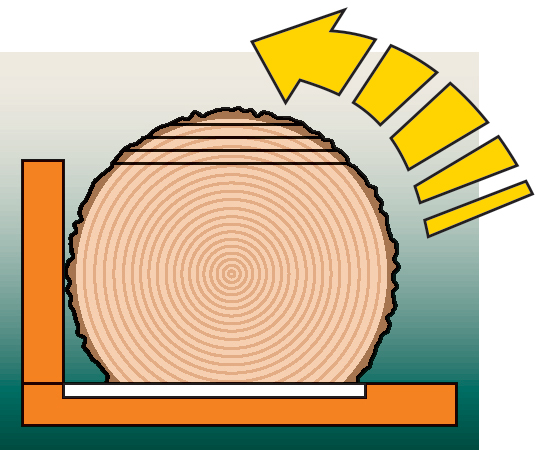 Flip log 180° onto the flat side and saw.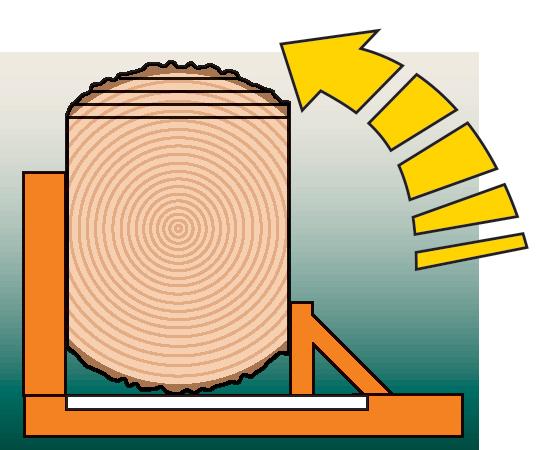 Rotate log 90° to cut the 3rd side.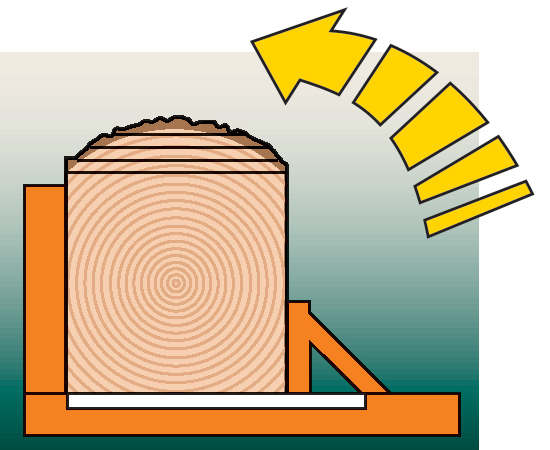 Saw the last side to square the log into a four-side cant.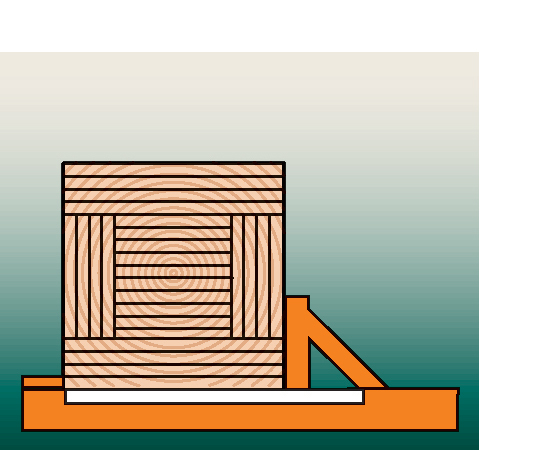 Rotate the cant to produce the maximum amount of lumber.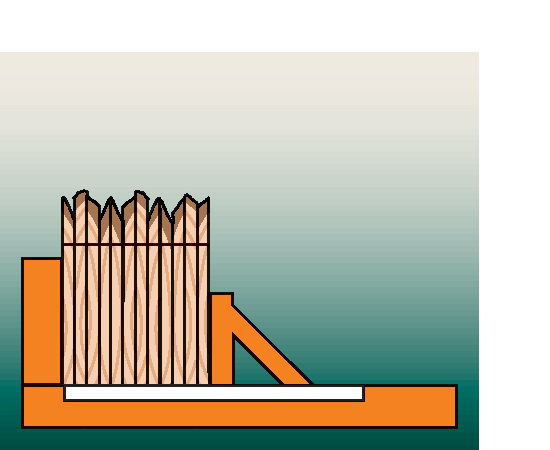 Edge boards by sawing the rough edge off.
Additional Videos
Specifications
Cutting Capacities
Log Length
17' 8"(5.4m) or no limit
Log Diameter
28" (711mm)
Production Rates
up to 320 bd ft/hr
Operation
Feed System
Hand Crank (power feed optional)
Up/Down
Hand Crank
Product Dimensions
Length
20' 4" (6.2m)
Width
6' 3" (1.9m)
Height (max head position)
6' 3"

(1.9m)

Weight (with heaviest power options)
1,200 lbs (544kg)
Other
Blades
.042" (1mm) thick x 1.25" (32mm) wide x 158" (4.01m) long
Bed Extension
Unlimited 6' 8" sections
Blade Lubrication
Water lube - manual valve
Warranty / Money Back Guarantee
2 yr / 30 Day
Accessories
---
---
---
---
---
---
---
---
---
---
---
---
Other Related Products
30-Day Money-back Sawmill Guarantee*
It's as simple as it sounds. Use your new sawmill and, if you are not completely satisfied, you may return it within 30 days after delivery for a full refund of your purchase price. For LT70, LT50, LT40, LT35 and LT28 customers, we ask that you participate in the free sawmill training that we provide. For LT10 and LT15 customers, we ask that you watch the provided training video.
Two-Year Limited Warranty
All Wood-Mizer sawmills, resaws and edgers are warranted against defective workmanship and materials for two (2) years. You can count on Wood-Mizer to stand behind our products and make good on every promise.
Owner's Manual & Support Pack
Wood-Mizer gets you started off right with the industry's most comprehensive owner's manual and support materials. Every new customer receives a complete set of manuals, some basic supplies for starting your business, a coupon for free blade sharpening, and two hats!
The Wood-Mizer Way
When you join our family of owners, we stay in touch with our customer magazine, The Wood-Mizer Way. It highlights customers and their projects along with helpful sawing tips, technical advice and even contests for customers to showcase their achievements.
Free Phone Support
Whether you need technical advice, parts ordering, or troubleshooting, Wood-Mizer customer service can help. Call us Monday-Saturday and talk to experts in electrical, hydraulics, and power plants.
Field Service
Wood-Mizer offers field service in various locations throughout the year. These stops are a great opportunity to schedule maintenance, add accessories and options, or upgrade your mill. Learn More
Field service charge, labor rates, parts, and taxes apply.
*Refund does not include used blades and damaged parts. The buyer is responsible for returning the sawmill to Wood-Mizer and there is a limit of one return per customer.
Filled with product information, specifications, and shopping tools, our 60 page all product catalog will help you find the sawmill equipment that best fits your needs. Please provide us with your contact information so we can send you a free catalog today!
More than 40 pages dedicated to portable sawmill equipment

A helpful guide on "How to Shop for a Sawmill"

Product part numbers and pricing

Complete list of sawmill options and accessories

Customer dream projects and success stories
Submitting this form indicates that you agree to the terms of Wood-Mizer's Privacy Policy