LT10 Portable Sawmill
Entry-level portable sawmill with push feed, 10HP gas engine, 24 inch log diameter, 11 foot log length and production up to 160 bf/hr.
PRODUCT INFO
SPECS
ACCESSORIES
WHAT YOU GET
REQUEST A CATALOG
LT10 Manual Sawmill
Entry-Level Mill for Weekend Sawyers
The LT10 is an affordable personal sawmill for weekend sawyers. Woodworkers, farmers, furniture makers, and homesteaders who love the idea of sawing their own lumber, find the LT10 exceeds all expectations for an entry-level bandmill.
The simple and sturdy LT10 sawmill makes sawing easy with the ability to produce lumber up to 160 board feet per hour from 24" diameter by 11' long logs. In order to saw longer logs, an unlimited number of 7' bed extensions can be added to extend the sawmill bed to any required cutting length. Read More
Loaded and turned manually with a cant hook (sold separately), logs are secured on the convenient low bed profile by four adjustable side supports and log clamp. With help from an air assist lift, the head height is precisely positioned by a hand crank. The blade is engaged manually and saws through the log by steadily pushing the saw head down the track with the heavy-duty push bar feed system. Blade lubrication is also activated by hand to help keep your blade clean and free of pitch build up. Once the cut is completed, the head is raised, pulled back and lowered into position for the next cut. Wood-Mizer thin-kerf blades require minimal energy, so the standard 10HP gas engine provides the necessary power to cut all wood types from hardwoods to softwoods.
The LT10 sawmill ships on a pallet, comes with a single Wood-Mizer bandsaw blade, and requires minimal assembly time so you can start sawing within a few hours of receiving your mill. Offering a 30-day money back guarantee and a 2-year sawmill warranty, the LT10 sawmill is also backed by the same legendary service, quality and safety features shared by the rest of the family of Wood-Mizer mills.
Standard Operation and Log Handling Features
Head Up/Down
Locking latch lever secures head position for cutting.
Reinforced Bed
Zinc bed has plated protection with four drop in side supports and clamp to tightly secure log.
Heavy-Duty Ball- Bearing Rollers
Ensures smooth head travel on bed rails.
Sits Low to Ground
Requires minimal lifting of the log and allows cuts within 1" of the bed.
Blade Tensioning
Easy one-action cam blade tensionsing.
Heavy Duty Push Bar
Heavy-duty bar adds rigidity and strength for a smooth cut.
---
Easy Sawing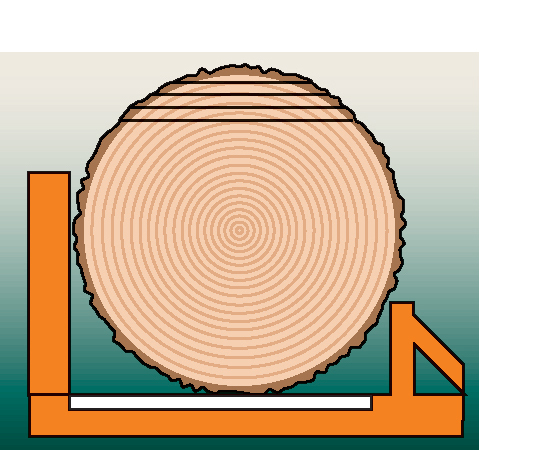 The first cuts are made across the top of the log.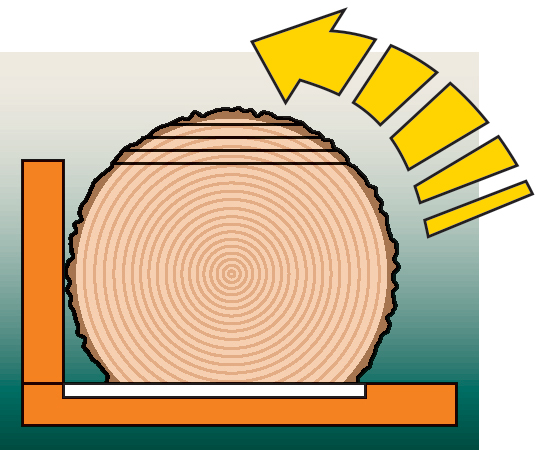 Flip log 180° onto the flat side and saw.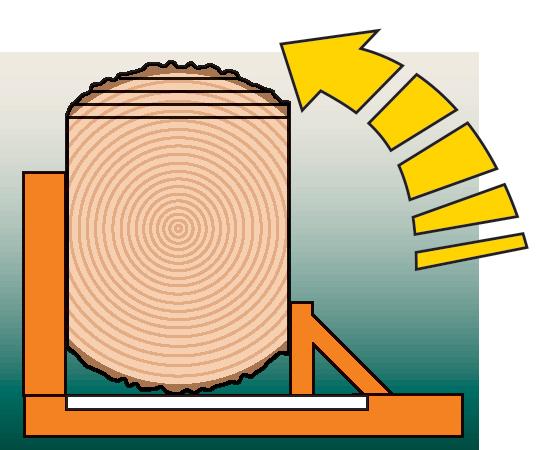 Rotate log 90° to cut the 3rd side.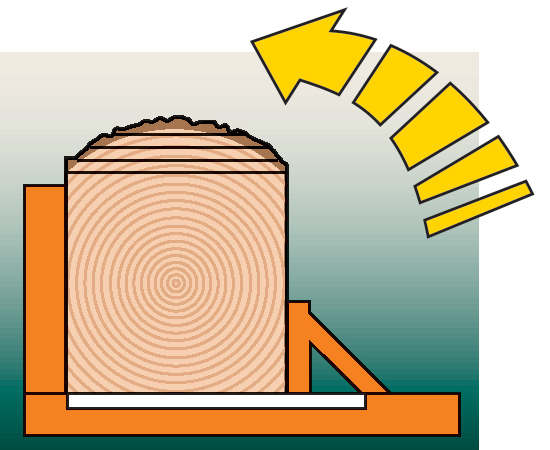 Saw the last side to square the log into a four-side cant.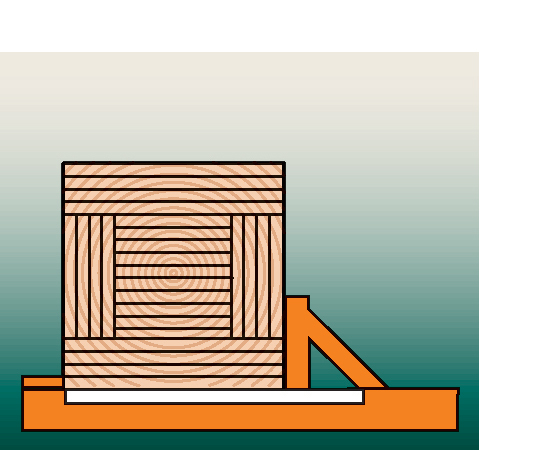 Rotate the cant to produce the maximum amount of lumber.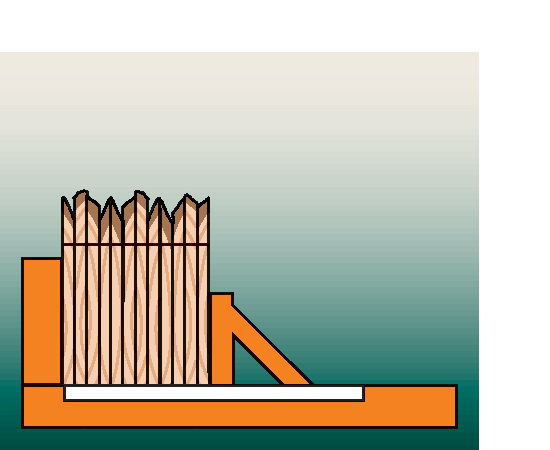 Edge boards by sawing the rough edge off.
Additional Videos
With the use of his Wood-Mizer LT10 personal sawmill, and some help from his brother and son, Bob created his 924 square foot barn over the course of one fall and two summers.
With his LT10 Sawmill, Mark Miller has accomplished his youthful dream of building a remote fishing lodge in the wilderness of Alaska.
---
Specifications
Cutting Capacities
Log Length
11' (3.3m) or no limit
Log Diameter
24" (610mm)
Production Rates
up to 160 bd ft/hr (.37m³/hr)
Operation
Feed System
Manual Push
Up/Down
Manual
Product Dimensions
Length
14' 4" (4.4m)
Width
5' 4¾" (1.6m)
Height (max head position)
5' 10

¾ (1.8m)

Weight
Mill 660 lbs (299kg)
Skid 150 lbs (68kg)
Other
Blades
.042" (1mm) thick x 1.25" (32mm) wide x 144" (3.67m) long
Bed Extension
Unlimited 7' sections
Blade Lubrication
Water lube - manual valve
Warranty / Money Back Guarantee
2 yr / 30 Day
Accessories
LT10 7' Bed Extension
These bolt together bed sections can be added to the LT10 sawmill to cut longer lengths. (No practical limit.)
---
LT10 Sawmill Head Cover
Don't risk rust. The LT10 carriage cover is made from high-quality, fiber-reinforced material.
---
Other Related Products
30-Day Money-back Sawmill Guarantee*
It's as simple as it sounds. Use your new sawmill and, if you are not completely satisfied, you may return it within 30 days after delivery for a full refund of your purchase price. For LT70, LT50, LT40, LT35 and LT28 customers, we ask that you participate in the free sawmill training that we provide. For LT10 and LT15 customers, we ask that you watch the provided training video.
Two-Year Limited Warranty
All Wood-Mizer sawmills, resaws and edgers are warranted against defective workmanship and materials for two (2) years. You can count on Wood-Mizer to stand behind our products and make good on every promise.
Owner's Manual & Support Pack
Wood-Mizer gets you started off right with the industry's most comprehensive owner's manual and support materials. Every new customer receives a complete set of manuals, some basic supplies for starting your business, a coupon for free blade sharpening, and two hats!
The Wood-Mizer Way
When you join our family of owners, we stay in touch with our customer magazine, The Wood-Mizer Way. It highlights customers and their projects along with helpful sawing tips, technical advice and even contests for customers to showcase their achievements.
Free Phone Support
Whether you need technical advice, parts ordering, or troubleshooting, Wood-Mizer customer service can help. Call us Monday-Saturday and talk to experts in electrical, hydraulics, and power plants.
Field Service
Wood-Mizer offers field service in various locations throughout the year. These stops are a great opportunity to schedule maintenance, add accessories and options, or upgrade your mill. Learn More
Field service charge, labor rates, parts, and taxes apply.
*Refund does not include used blades and damaged parts. The buyer is responsible for returning the sawmill to Wood-Mizer and there is a limit of one return per customer.
Filled with product information, specifications, and shopping tools, our 60 page all product catalog will help you find the sawmill equipment that best fits your needs. Please provide us with your contact information so we can send you a free catalog today!
More than 40 pages dedicated to portable sawmill equipment

A helpful guide on "How to Shop for a Sawmill"

Product part numbers and pricing

Complete list of sawmill options and accessories

Customer dream projects and success stories
Submitting this form indicates that you agree to the terms of Wood-Mizer's Privacy Policy