FS500 Dual Action 42-Ton Commercial Log Splitter
High-production, commercial log splitter with bi-directional wood splitting, 630cc Honda gas engine, 4.5 second cycle time, 42 tons of force, 3-way wedge, log lift, and firewood production up to 3 cords/hr.
OVERVIEW
SPECS
EASY TO SPLIT
REQUEST A CATALOG
The FS500 log splitter is a powerful, high-production wood splitter ideal for commercial wood splitting operations without the high cost investment of a firewood processor.
Powered by a Honda 630cc gas engine, the FS500 makes splitting wood simple with the ability to produce firewood up to 3 cords per hour from logs up to 24" long. With the standard bi-directional push block, 4.5 second cycle time, 42 tons of splitting force, and 2-stage hydraulic pump at 28 GPM, the FS500 can split wood at double the rate of one-directional log splitters.
FS500 Features:
Bi-directional splitting
Honda gas 630cc engine
42 ton splitting force
28 GPM, 2-stage hydraulic pump
Up to 3 cords/hour production
Double Your Production
Bi-directional push block increases production up to two times more than one directional splitters.
Increase Efficiency
Unique design of 3,4, & 5-way splitting wedges produce accurate and consistent pieces with no need for re-splitting.
Comfortable and Convenient
Extra wide wing trays collect split pieces while keeping them at working height for stacking or bundling.
Ready to Work
Heavy duty, tube -in-tube steel frame, and three-times the weight of standard log splitters.
Increase Productivity
Log lift conveniently positioned on the operator's side for fast and simple loading by a single operator.
Save Your Back
Ergonomically-designed deck level 12" higher than comparable splitters.
Simple Assembly
Shipped on a single (88" x 60") pallet and assembled in minutes with only 7 bolts to secure before operation.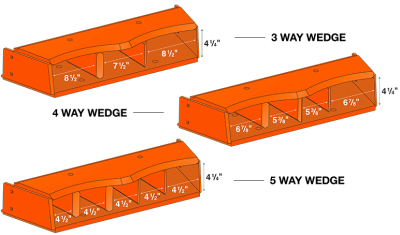 Optional Wedges
4" Tall Wedge Options
The veteran-owned and operated MB Tree and Landscape in Sturgis, South Dakota was established in 2010 by Matt King. As the business expanded, Matt found that he could receive up to five times more profit by producing firewood and lumber instead of selling raw timber from the trees he removed. By adding these wood products to his business, the tree service has grown from one man with a pickup truck into a full scale operation with half a dozen employees providing tree removal, firewood, lumber, and seasonal services to clients throughout western South Dakota.
---
Other Log Splitter Models
Compact, powerful wood splitter with one-directional splitting, 390cc Honda gas engine, 29 tons of force, 3-way wedge, and production up to 1 cord/hr.
Powerful, skid steer wood splitter with bi-directional splitting, 29 tons of force, 3-way wedge, and production up to 2 cords/hr.
High-performance, gas wood splitter with bi-directional splitting, 390cc Honda gas engine, 29 tons of force 3-way wedge, and production up to 2 cords/hr.
Dimensions
Operational Footprint
139" (front to back) x 177" (wide) x 47" (high)
Splitting Capacity
Splitting Function
Bi-Directional
Maximum Log Length
24"
Optimum Log Diameter
24"- 26"
Production Rate** (cords/hr)
2-3
Cycle Time (sec)
4.5
Splitting (tons/psi)
42 Ton / 3,000psi
Machine
Engine Type/Size
Honda Gas/630 cc
Starter
Electric
Oil Cooler
Standard
Pump (gpm)
2 Stage - 28GPM
Hydraulic Tank Capacity (gal)
20 (System Capacity 25)
Cylinder Size
5" (6" Optional)
Frame Construction
Tube-in-tube steel
Log Lift
Standard
Wing Trays
Standard
Wedge
3-Way Wedge (4" h)
Standard
4-Way Wedge (4" h)
Optional
5-Way Wedge (4" h)
Optional
5-Way Bundle Wedge (3.5" h)
Optional
Towing
Trailer
Standard
Axle (Torsion/lbs)
3,500
Hitch
2" SAE4
Shipping
Shipping Pallet
88" x 60"
Shipping Weight
2,960lbs
**Production rates will vary.
Load the wood to be split.
Position wood for first pass.
Engage hydraulic lever to push wood through the wedge.
Second pass removes additional pieces off of the bottom.
Additional pass splits remaining pieces.
Rectangular firewood for easy stacking.
Download the free Wood-Mizer log splitter catalog featuring detailed information and specifications on the FS150, FS300, FS350, FS350 Skid Steer, and FS500 wood splitters. Please provide us with your contact information so we can send you a free catalog today!